Wednesday, February 22, 2006
Me,Aswin anand,Sathya went to Microsoft conference "Date with .net"., Me and sathya was not interested in listening to the conference.As aswin anand was Student champ he has to be there,"if he likes or dislikes the session".There were two sessions,one related to VC++ and other related with Data mining using SQL Server 2005...

The First session was taken by Mr.Ashwani Sharma,which was related with VC++ and he was just promoting the product and comparing with borland c++ ...I got bored and told sathya that i am going.He told me to wait...after the first session..there was perlims of quiz.we got bored and thought lets attend this...we have attended around 8...9 questions and waited for the best...

Then the Second session was took by CEO of appin...the session was worst then the first session ....but we patiently waited for the result....The great thing that happened was we got the first call from the announced list who got selected for the finals of the quiz...we got so much excited......

after announcing all the finalists....the student champs was telling audience wat the finalists are going to win....The prize listing was great...

First prize : 2 HP MULTIFUNCTIONAL PRINTER AND 40 GB USB DRIVE
Second prize : 2 2000 WATT SUB WOOFER AND 512 USB DRIVE
Third Prize : 2 4000 WATT SUB WOOFER

Then we went to the stage and sat there and was discussing fully about the prize....then the final round started in which we totally answered four question and got 40 points ...but the people who got first was rocking and telling all the answers....
we had close fight with 3rd team and at last we got 2 nd prize


The winners can choose whatever they want from these list of prize...

we choose the second prize and was very happy....

The title what i have mentioned was a saying "Whenever god started giving it will be unstoppable" and i mentioned becoz we went empty handed and returned with a prize...
Monday, February 20, 2006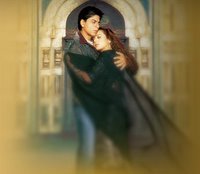 I dont no how many of them like romantic films and songs, but I like them so much...., there are some Romantic films that are not worth seeing, but there are some which cant be described by the word.In each and every Romantic films the Directors and writer has given lots of life into the films by means of Love.......,

I will like to mention some films which was amazing to see and feel the "narration,The art,the love,the poetry" I will like to tell in hindi "Wah Kya Baat Hain".

some films are

1)Mughal-e-Azam
2)Qayamet se Qayamet tek
3)Maine Pyar Kiya
4)Hum Aapke Hain Kaun
5)Dilwale Dulhaniya Le Jayenge
6)Veer Zaara etc

You will Feel why these pointless blog he has posted....

Yesterday i saw a movie Veer Zarra which made me to blog about these movies and tell some of my likings........

If u like some of Romantic movies in tamil Share in comments.......
Categories

Archives