Monday, February 20, 2006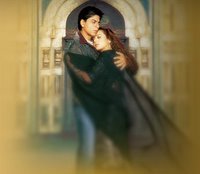 I dont no how many of them like romantic films and songs, but I like them so much...., there are some Romantic films that are not worth seeing, but there are some which cant be described by the word.In each and every Romantic films the Directors and writer has given lots of life into the films by means of Love.......,

I will like to mention some films which was amazing to see and feel the "narration,The art,the love,the poetry" I will like to tell in hindi "Wah Kya Baat Hain".

some films are

1)Mughal-e-Azam
2)Qayamet se Qayamet tek
3)Maine Pyar Kiya
4)Hum Aapke Hain Kaun
5)Dilwale Dulhaniya Le Jayenge
6)Veer Zaara etc

You will Feel why these pointless blog he has posted....

Yesterday i saw a movie Veer Zarra which made me to blog about these movies and tell some of my likings........

If u like some of Romantic movies in tamil Share in comments.......
Categories

Archives